Massage Therapy in Southampton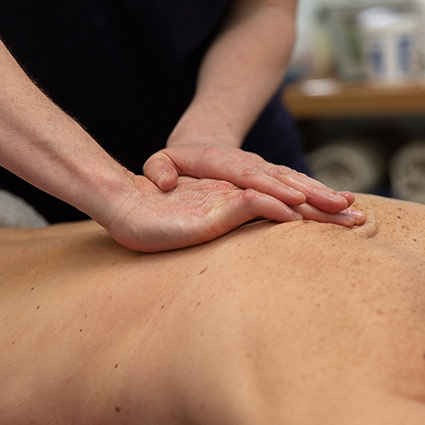 You shouldn't have to choose between feeling incredible and restoring your body to maximum wellness. Massage therapy gives you a chance to relax while speeding up the healing process, so you feel great, day after day.
Soft tissue and muscle work is essential for long-term health. We provide comprehensive massage therapy at St. James Chiropractic and Wellness Centre to relieve tension, boost circulation, and restore you to optimal wellness.
NEW PATIENTS

Comprehensive, Whole-Body Therapy
Our range of services includes soft tissue, deep tissue, sports, and remedial massage. We focus on carefully assessing and listening to you as we get to know you and your unique condition. At your first appointment, we'll design a custom approach that honours any sensory, environmental, social, or anxiety needs you may have.
Your holistic, bespoke plan of care may blend Swedish, sports, and remedial approaches. Our goal is to improve your range of motion, mobility, flexibility, and strength.
We care for all kinds of soft tissue conditions. For most patients, we add in stretching and strengthening exercises to bring your bones and muscles back to a healthier posture. We want you to reap the benefits of improved functioning, so you don't slip back into cycles of pain.
Customised Care for All Kinds of Needs
Our sports massage therapist, Mandy, graduated from Brunel University in London with a 2:2 in Occupational Therapy BSc (Hons). After earning her diploma in Swedish Massage in 2021, she qualified in Sports Massage in June 2022.
Mandy loves using her extensive health knowledge to help adults of all ages, health conditions, and sports needs. She has spent 22 years in the wellness profession. Her experience includes caring for patients with everything from learning disabilities, and dementia, to amputees.
Whatever your specific needs, Mandy loves meeting you where you are, while helping you discover your best expression of health.
Relax, Let Go, and Heal Today
Wellness is right around the corner. Book your visit now.
CONTACT US

Massage Therapy Southampton, UK | 02380 788111